Catalina Island Day One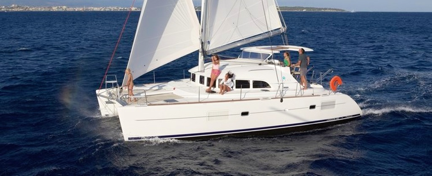 We woke up pretty early in the morning without needing an alarm. I was so excited for my first trip to the island. At 8:30am, we arrived at the parking lot at Marina del Rey ,met with my cousin's family, and away we go, time to sail, yeeeeahaaaaah!.
Captain Johnny was experienced, and very smoothly pulled out the boat right before 9:00 am. Out boat looked pretty nice, elegant in fact, and was very spacious. Jack, Amy and Cheryl, and myself all stretched out on the capacious front deck. There was a big trampoline right in the middle of deck so that we could see the water and waves underneath. This was fun and pretty interesting.
We loaded all our luggage to the bed rooms, there are 4 bed rooms at the boat, pretty amazing they are not tight at all, each room has 2 or 3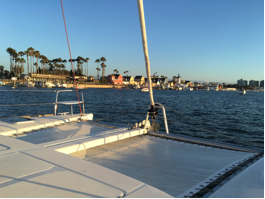 windows that you can see the ocean, cool. Around 10:30 AM while passing Redondo beach, guess what, we met with bunch of dolphins! I think there were more than 50 of dolphins in the group, they were chasing and playing with each other. Some of them jumped out of the water and some of them even swam very close to our boat. I really wanted to jump down and swim with them. They left after a while, swimming off into infinite blue seas, while leaving us with a special feeling of a far greater universe than meets the eye.
Wind was picked up a little after noon time while we were in the middle of channel. Captain Johnny set sail, and we were officially sailing under wind's power, no more burning fuel or noise from the engine. We learned a little bit about how the sail works and how to adjust the sail while wind changes directions. I feel that I could even become a sailor and sail around the world some day.
We arrived at Emerald Bay right after lunch, around 2:00 pm. The color of water was azure, almost cerulean, like Cancun. We could see fishes under the water, big and small, including the amazing Garibaldi fish, which look like giant goldfish! It was time to play in some water. We spent the whole afternoon at emerald bay, snorkeling, kayaking, paddle boarding and swimming. Playing in the water is always so much fun!
8:00 pm, our boat came into 2 harbors and moored at one of the mooring balls. We went to the only one restaurant in the harbor; best dinner ever……..
2 Harbor is actually on a narrow Isthmus, so we walked across right to other side of the island after dinner. There is no street light, and the road is unpaved. When you look up to the sky, you can see the stars and the so called "milky way" which is actually looking into the center of our galaxy. Breathtaking!. I saw a camping site right next to the harbor on a little hill, and promised myself to come back and camp someday soon. I fell asleep as soon as we were back to the boat, even though I was trying not to sleep early. I wanted to do some fishing during the night, but after a whole day of outdoor activity, I just dozed off.
Catalina Island Day Two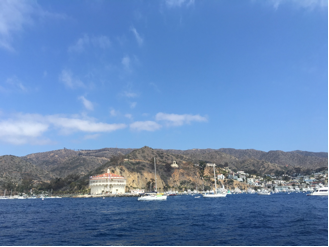 We woke up around 9:00 AM. I found we had already sailed to the other and biggest Catalina harbor: Avalon. Captain Johnny had moved us down in the early morning while we were sleeping. Mommy was cooking my favorite pancakes s at the kitchen, smell so delicious!!!
I wanted do some paddle boarding right after breakfast, but father wanted everyone to come ashore at Avalon to visit the historic casino. I at first agreed , and got ashore by paddle board . Jack kayaked to the shore with cousins. However, when we got ashore, we both decided to play in the water instead of visiting the casino. There is a little beach right next to casino, where many people like to hang out there. We did leave off from paddle boarding long enough to get some ice cream from the shop along the promenade, yum……
We got back to the boat around 1:30 pm, in order to head back to the mainland. I really wanted stay for another night, and I didn't even have a chance to do the zip line. Jack is interested in botany and wanted to visit the famous Wrigely botanic garden, and told me something about the "endemic" plants you can see there, which mean plants that only grow on Catalina and nowhere else in the world!
At 4:00 pm, Captain Johnny stopped the boat at a little bay right in the middle of the Palos Verdes peninsula. I caught 2 rock fishes and then put them back into water, while everyone else went swimming. Fishing is so much fun!
Back to Marina del Rey while the sun was setting. A Beautiful clear yellow twilight all around the sky signified clean ocean air!
Take a look at the Catalina Private Charters that we have to offer. This trip was done via Marina del Rey Lagoon Catamaran Charter.