San Francisco Bay is a unique destination for chartering a yacht. The bay offers sweeping vistas of downtown San Francisco, Alcatraz, Angel Island and the famous Golden Gate and Bay Bridges. To sailors, the bay also offers an adventurous experience. Due to its lay-out some sailors say that if you can sail in SF Bay, you can sail anywhere. The bay has currents and winds from so many directions that makes it difficult to sail. However, if you are renting a yacht in San Francisco from OnBoat, you would don't have to worry because an experienced captain is always assigned to the rental yacht.
As a person who has lived in the Bay Area for over 10 years, I've taken the Alcatraz Ferry and Tiburon Ferry, but never before recently had chartered a yacht. Was I glad I did! Yacht rental San Francisco provides an unparalleled experience. Chartering a private yacht in SF Bay gives you a tranquil setting in the otherwise very busy bay.
People charter yachts for different reasons. For me, I wanted to celebrate an unforgettable birthday on a yacht. I got a group of 12 friends together and rented a yacht to celebrate my birthday. We bought a lot of to go food from super market as well as a decent supply of alcohol. We embarked from AT&T Park. The boarding was quite easy, and I cannot believe I could get picked up at AT&T Park, right down town. Some other yachts from OnBoat board at other yacht rental locations in Sausalito, Treasure Island, Oakland, and Alameda. Once picked up, we sailed westward. Immediately you will see the familiar Bay Bridge. Going underneath the Bay Bridge on a private yacht charter in SF Bay was an awesome experience. The captain didn't put up the sail until we were past the bridge.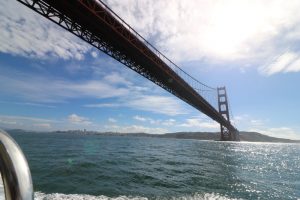 The water was a big choppy when we rented a catamaran yacht rental in SF Ba. Therefore, the boat was rocking but it was still quite stable. If we had chartered a mono-hull sailboat in San Francisco Bay, it would have leaned into the wind and the salt spray would have really made us feel like sailors! Different types of yachts definitely fit different needs. The catamaran yacht rental in San Francisco is nice because they come with a trampoline in the front which you can lie upon and see the water underneath. We relaxed and chilled out, sunbathing on the trampoline. The captain took us around Angel Island and Alcatraz. The captain also let me steer the yacht for a bit. It was a bit scary but rewarding at the same time. Steering in open water was nothing to worry about and seems deceptively easy, as if you are driving a car. I am sure glad we had a captain who knew the waters however.
Time went by very quickly. Soon, it was 3 hours into the charter. We were taking pictures and enjoying the food, cake and alcohol that we brought onboard and we were mostly just enjoying ourselves. I also got to see Sausalito and the many yachts docked there. The captain told us this harbor is positioned in a way that the yachts in Sausalito would be protected from the gusting San Francisco wind.
Overall it was an awesome experience. We got dropped off at AT&T park and continued the birthday party in the city. I can't wait to rent a boat in San Francisco again. However, I won't have to wait long. I told my friend at work and they planned a future corporate event on a yacht, so, I get to go again soon!