OnBoat has recruited the finest fleet of charter boats in Boston for your Massachusetts yachting adventure. No matter how long you may have lived here, or how many times you rent a boat in Boston, you will never run out of coastline to explore. The Commonwealth of Massachusetts has an astounding 1300 plus miles of coast line.  Boston harbor alone encompasses historic pre civil war forts, the oldest lighthouse in the US, and haunting views of the city from 34 isolated, green islands.  These islands are a rare type of hill called a drumlin, formed in clusters of by glaciers, which were drowned after the last ice age to become rounded islands. Take a charter boat to Georges Island, which has a particularly spectacular ancient stone fort. OnBoat lets you book a boat rental to the Boston harbor islands where you may picnic, swim, hike, or explore. You may charter a yacht in Boston and have a private picnic on a little green hill in the harbor. Be sure to invite your guests to a party boat in Boston harbor for something extra special.
From your boat rental in Boston harbor, you will discover waters nested like a Russian doll. The harbor is within Massachusetts bay, which enveloped between the twin peninsulas of Cape Ann to the north and Cape Cod to the south.  Rocky Cape Anne, sandy Cape Cod, and the entire coast in between, are studded with charming old villages.  See Rockport by boat and sail your yacht to Gloucester of Perfect Storm fame, or see historically intact Newburyport with a yacht and cruise along with Plum Island, famous for beaches and bird -watching. Just north of Boston, you may want to rent a yacht in Salem, famous for witches. Travelling southwards from Boston, Duxbury Beach has a fantastically long beach to walk on.  Book a rental yacht in Plymouth to see where America began, with the oldest houses in America, from the early 1600s. Famous Plymouth rock itself is a humorous disappointment. People used to chip pieces off for souvenirs before what was left of it was put into a protective cage. A better reason to Plymouth is simply to climb the little cemetery hill behind the historic pilgrim churches, to see a view that, on the right day, must be among the most heartbreakingly beautiful in the world. Take in a subtle mix of history, ocean, the boats in Plymouth harbor, and far away coastline, and imagine this place like how was to the Indians and Europeans explorers, how it still is a little, and how it could be again with more respect for the environment.
Next stop on your southward journey is Cape Cod and the Islands.  Among the many absolutely cute villages are Barnstable, Falmouth, Chatham, Wellfleet, and, the thriving resort town of Provincetown at the tip. Almost three-quarters of the lower cape is preserved in its wilderness state as part of the Cape Cod National Seashore Park. The Park provides visitors access to magnificent ocean beaches, bike and walking trails. Fishing off the beach is very popular among locals. Marine mammals that are commonly spotted in local beaches and harbors include harp seal, gray seal, harbor seal, hooded seal, and ringed seals.  Ocean conditions are changing rapidly due to climate change, with one effect being a healthy shark population. Only recently, Great Whites have been coming into ocean side beaches feed on the seals, and, an occasional swimmer.  Better to swim in the quieter waters of the bay side, or, charter a yacht in cape cod and enjoy a private view.
Rent a private yacht to Martha's Vineyard, vacation spot of choice for US presidents. This island is huge with many villages, including the historic whaling village of Edgartown. For a multi-day adventure, rent a yacht to Nantucket island, right out of the book Moby Dick, an island village of beautiful old sea captain's homes.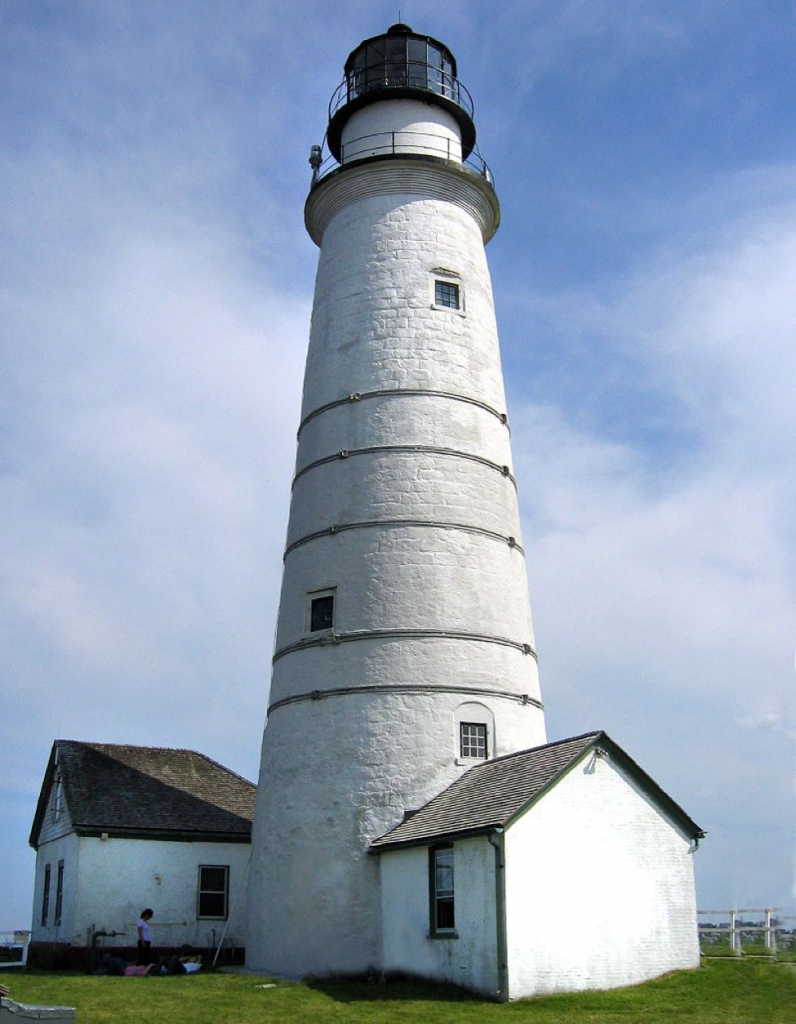 Boston Light. Among the oldest lighthouses in the Western Hemisphere.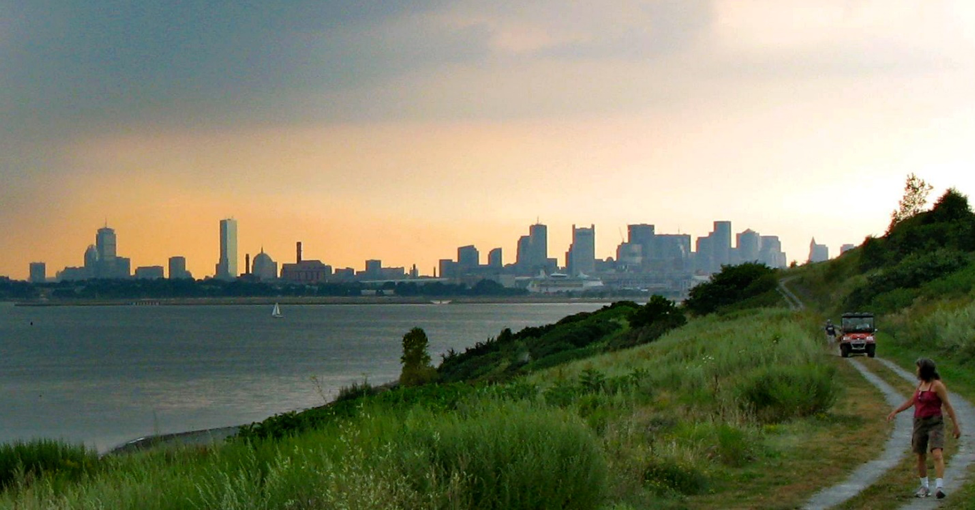 Rent a Boston yacht charter to Harbor islands, and view the city from secluded splendor.
Driving to Cape Cod can be an ordeal in peak summer vacation time, with traffic backed up for miles before the Cape Cod Canal bridges. You may avoid this completely by hiring your own private boat to Provincetown, from Boston or from Plymouth.  This will take you across a corner of Stellwagen bank, one of the world's best and most diverse whale watching areas. The amazing variety of whales here includes humpback whales, minke whales and fin whales. There are also occasional sightings of one of the most critically endangered whale species, the north atlantic right whale. Several other whale species that can also be seen here including the sperm whale, beluga, orca, pilot whale, white-beaked dolphin, atlantic white-sided dolphin, common dolphin, bottlenose dolphin, Risso's dolphin, harbor porpoise, sei whale, and the largest animal that ever lived, the blue whale. A must do is to rent a boat in Massachusetts to go whale watching!
When you go out on a boat from any New England Village, you will see how everything in these towns revolved upon and centered on the sea. You can even still see that in Boston itself.  Hire a yacht rental in Massachusetts to catch a glimpse of an old maritime culture which in many ways changed world history.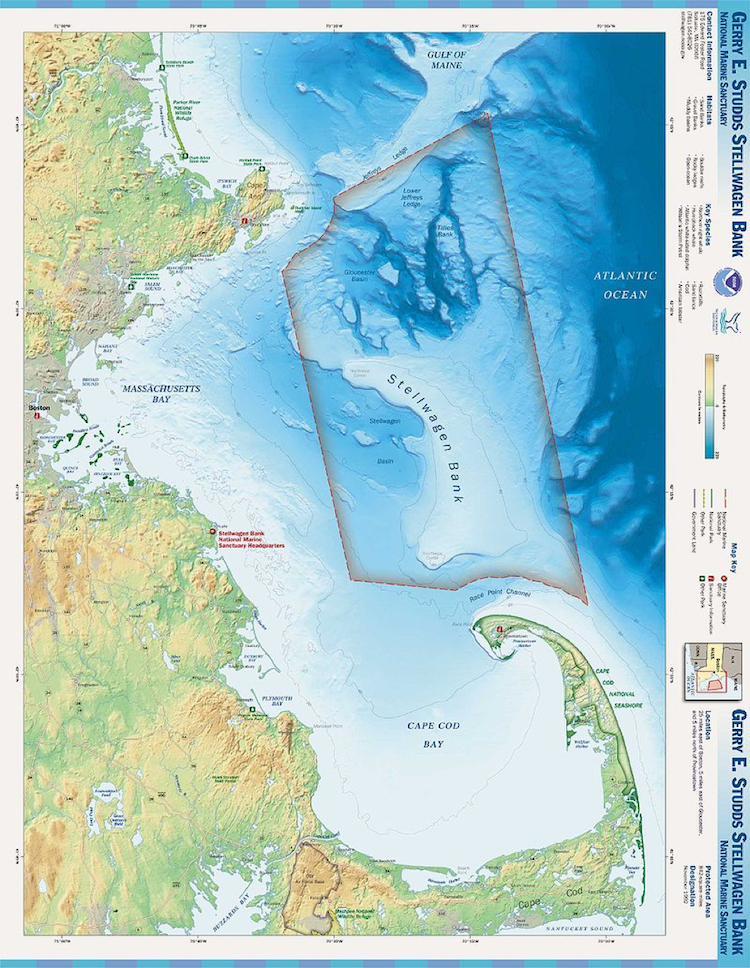 Massachusetts Bay is defined by Cape Anne to the North, Cape Cod to the South, and, Stellwagen Bank to the east.